PQA Will Convene Stakeholders to Advance the Quality of Medication Therapy Management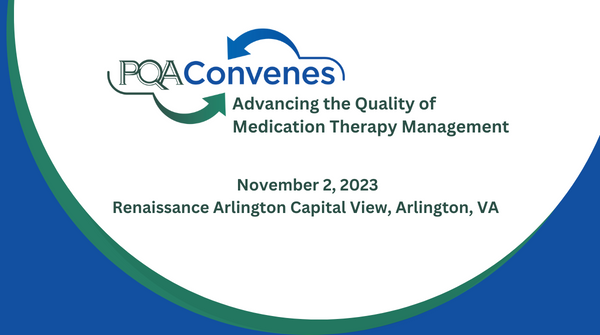 PQA will bring its members and industry experts together on November 2 to discuss the state of medication therapy management (MTM) practice, implications of recent Centers for Medicare & Medicaid Services proposals and opportunities to evolve MTM quality measurement.
This in-person, one-day event, "PQA Convenes: Advancing the Quality of Medication Therapy Management," will take place at the Renaissance Arlington Capital View, in Arlington, Va., from 9:00 a.m.-2:00 p.m. ET. This special event precedes the 2023 PQA Leadership Summit, which is November 2-3 at the same location.
MTM: An Important Tool for Achieving Optimal Medication Use Outcomes 
MTM is an important tool to help patients get the best results from the medications they're taking. For patients with multiple chronic conditions and taking many chronic medications, MTM can help achieve the best therapeutic outcomes while reducing the risk of adverse events. That's why Medicare Part D plans must offer MTM services to beneficiaries who have complex health needs.
Since its inception, the Medicare Part D MTM program requirements have changed to enhance enrollment, improve quality of services, and reduce gaps in care. CMS has proposed expanding the eligibility for MTM beginning in 2024 for Part D beneficiaries, estimated to increase the number of Part D enrollees eligible for MTM services from 4.5 million to 11 million.
MTM programs include high-touch interventions to engage both beneficiaries and their prescribers. At a minimum, MTM services include an annual comprehensive medication review (CMR) with written summaries in a standardized format, quarterly targeted medication reviews (TMR) with follow up interventions, and information about safe disposal of prescription medications.
To encourage and reward high-quality care, PQA's Completion Rate for CMR measure is part of the Medicare Part D Star Ratings program. This measure assesses the extent to which MTM-eligible patients receive a CMR during their MTM-eligibility period. Since its inception as a Star Ratings measure in 2016, CMR completion rate has steadily increased.
PQA's Role: Advancing How We Evaluate the Quality of MTM Services
As our health care system shifts toward patient-centered and value-based care models, there is a need to advance how we evaluate the quality of MTM services. This can support the broader implementation of standardized best practices and payment that rewards positive outcomes.
PQA Convenes will bring together PQA members and the broader MTM stakeholder community to discuss the state of MTM practice, implications of recent policy proposals, and opportunities to evolve MTM measurement. Attendees will engage in discussions on evidence-based priorities for measurement, such as:
Quality gaps and priorities across the range of MTM services and targeted

conditions;

 

Standardized documentation for medication therapy problems and their 

resolution;

 

Outcomes of the CMR process, such as patient-reported experience following

CMR;

 and




Measure development considerations, including measure concept importance

, feasibility

(e.g., data sources),

and usability

.

 
The result of this PQA Convenes event will inform future PQA research, measurement and MTM-focused quality strategies. PQA's multi-stakeholder, consensus-based approach is designed to produce results that have broad support and lead to action. As the developer and steward of measures used in the Medicare Part D Star Ratings program, PQA and its members have the expertise and a demonstrated track record of developing nationally recognized measures with broad implementation potential.
Medication management is a large and important enterprise in our healthcare system. It serves millions of patients and involves a multitude of pharmacists, other qualified providers, health plans, technology vendors and others. PQA is committed to building consensus among its members on the areas of MTM where PQA is appropriately and well positioned to advance quality.
Additional information about this PQA Convenes event will be shared in the coming months. We hope that you will save the date. In-person attendance will be limited, due to the size of the event space. However, PQA will provide a number of opportunities for its members and stakeholders to provide input before and after the event, which will be just one step in a process to advance MTM quality.
PQA Convenes Summary 
Topic: Medication Therapy Management (MTM) and opportunities to advance how we evaluate the quality of MTM services
Format: Presentations, interactive discussions and informal polling
Goal: Identify and prioritize opportunities to evolve MTM quality measurement
Date and Time: November 2, 2023, 9:00 a.m.-2:00 p.m. ET
Location: Renaissance Arlington Capital View, Arlington, Va.
Attendees: Approximately 200 PQA members and stakeholders who are director-level and decision-making leaders at health plans, pharmacies, pharmacy benefit managers and solutions providers involved in developing, implementing and evaluating medication management services.
Share this post: